Which do you prefer: three customers making a purchase or a thousand customers with only two making a purchase? Most likely, the former. The same question says a lot about Amazon conversion rate optimization.
On Amazon, conversions are essential in achieving and maintaining a high seller ranking. Amazon's algorithm considers various factors to rank product listings, including the conversion rate (CVR). If your CVR is low, your product listings won't appear on page one of the platform's search results. This robs you of many profitable opportunities on the platform.
But what's a good Amazon conversion rate? How should you achieve it and climb to the top of the shopping results? Keep reading to know the basics of Amazon conversion rates. We'll also share ten tried and tested ways to get a good conversion rate. Let's begin!
All About Amazon Conversion Rates
The Amazon conversion rate is part of the platform's seller metrics and Business Reports. It determines the number of visits to your product listings that turn into a sale.
CVR is a vital Amazon metric for the following reasons:
It provides a broad view of your product listing's health. See which areas perform well and which require improvement.
It increases the chances of getting a high product ranking.
In the long run, it leads to a bigger and more loyal customer base.
It contributes to your A/B testing evaluation.
The Ideal Amazon Conversion Rate
Generally, ideal Amazon conversion rates can be between 10% and 15%. This indicates a good performance; the higher it gets, the better.
That said, various factors may change your idea of a good Amazon conversion rate. Here are two scenarios that talk about different conversion rate standards.
Amazon Prime members' conversion rate is as high as 74% (or greater).
The average ecommerce conversion rate is from 2.5% to 3%.
Don't get confused with the metrics and reports. Analyze the data you have to understand and evaluate whether your Amazon conversion rate is satisfactory.
Amazon Conversion Rate Calculation
Look for the top menu bar on your Amazon Seller Central account. Go to Reports > Business Reports. You'll find a detailed and downloadable report called Amazon Sales and Traffic.
Next, search for a row named Order Item Session Percentage. That's where you'll be able to view your Amazon conversion rate.
If you are curious about how Amazon calculates your conversion rate or want to try it yourself, here's the formula:
Low Amazon Conversion Rates
The CVR is directly associated with rank product listings. Consequently, a low CVR reduces the likelihood of increasing sales and being shown on the first page of the search results.
The good thing is Amazon won't suspend your account for a low Amazon conversion rate. Still, that doesn't mean you shouldn't fix it. A low CVR generally means you need a better strategy; overlooking this may trigger more issues and eventually lead to suspension. Let's discuss the best practices in the following section.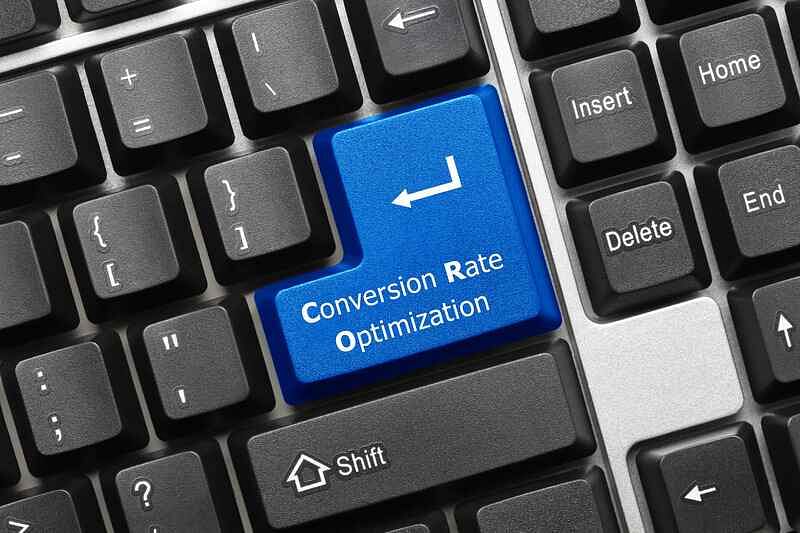 Amazon Conversion Rate Optimization: The 10 Best Practices
As a seller, Amazon conversion rate optimization is crucial to increase sales. Here, we'll share seven best practices to achieve just that. Conversion rate optimization will be easier with these tips, so keep reading!
1. Target the Right Audience
Targeting the right audience is essential for any business in Amazon conversion rate optimization. Amazon has millions of active buyers worldwide, but not all may be interested in your products. Identify your target audience and tailor your marketing strategies to maximize sales opportunities.
Understand your product's key features, benefits, and unique selling points to target the correct audience. Through this, you'll know how to weave a message that responds to potential customers' needs.
Customer demographic and behavior research is another method. Use tools like Amazon's customer insights dashboard or third-party analytics solutions to gather data on your target audience's shopping patterns, preferences, and interests. This information ensures your product listings, pricing, and promotional strategies are geared toward attracting your target audience.
Lastly, you may leverage Amazon's advertising options, such as Sponsored Products and Sponsored Brands. These advertising tools allow you to reach specific customer segments based on their search keywords, browsing history, and purchase behaviors. Targeted campaigns increase your visibility and attract qualified leads to your products.
2. Optimize Listings for Search Engines
An optimized product listing is crucial to achieve higher conversion rates when selling on Amazon. It drives traffic to your product and encourages customers to make a purchase. Here's how to enhance your listings:
Put yourself in your audience's shoes.
Use language that resonates with your target market, from the product title to the high-quality product images. They are most likely to look for the features, benefits, and product specifications of a product. Adding this information boosts transparency and sets the right customer expectations.
Do keyword research.
Customers must type in keywords on the Amazon search box to get to the product they intend to buy. This is where keywords come into play, allowing your listing to appear in the search results. Seamlessly and strategically input relevant and specific keywords to describe your product while ensuring content reader-friendliness.
Use relevant keywords for your listing content, product title, product images, bullet points of product features, product descriptions, and store backend.
Get customer feedback and reviews.
Potential buyers want to ensure they are getting only the best, and where else can they look than customer reviews and feedback? The individuals who have tried your products serve as their reliable sources. Studies show that products with positive customer reviews are more likely to convert into sales than those without.
Have reliable pricing and shipping options.
Pricing and shipping options can greatly impact your product's conversion rate. When customers see that they can receive their orders quickly and conveniently, they'll be more encouraged to buy.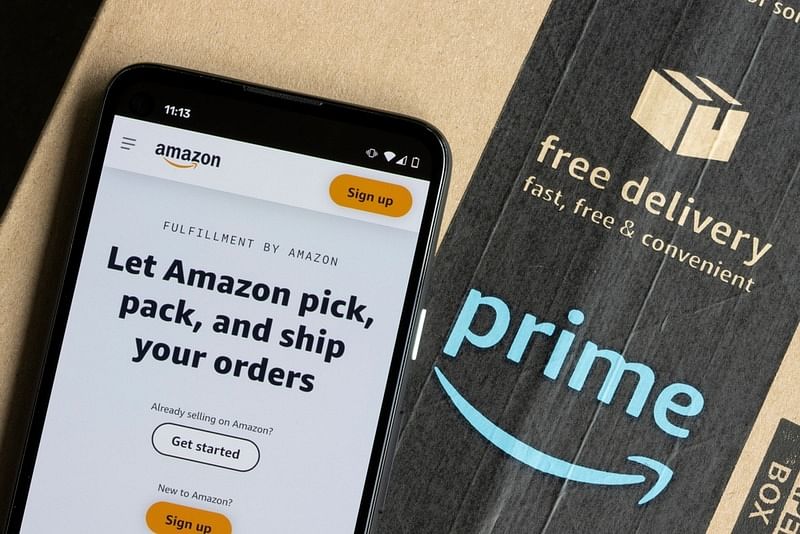 3. Choose a Shipping and Fulfillment Method Wisely
Customer experience is a success factor in raising your Amazon conversion rate. Buyers will not abandon their orders when the purchasing experience is pleasant and memorable. So always find ways to take the customer journey to another level, like choosing a reliable shipping and fulfillment method.
Enroll your Amazon business in Fulfillment by Amazon (FBA).
Make your quality products eligible for Amazon Prime's benefits, such as two-day free shipping.
These strategies undoubtedly increase conversions because more customers spend on these perks. You'll grow your product listing views, orders, and revenue. FBA also transfers your order fulfillment and return processes to Amazon, reducing your workload.
💡 Whichever delivery or fulfillment method you choose—seller-fulfilled Prime, FBA, or merchant fulfilled—ensure that your shipping and delivery options are clearly displayed on the product page. Include the price, expected delivery time, and any other relevant information.
Doing so sets the correct expectations for potential customers, increasing the chances of good feedback and reducing the risk of customer complaints.
4. Utilize Amazon Enhanced Brand Content
Enhanced Brand Content (EBC) or A+ Content allows you to create a more visually pleasing and informative product page. Investing in A+ Content can significantly improve your conversion rates on Amazon. The feature is a highly effective tool, enabling brands to tell compelling stories, differentiate themselves from competitors, and ultimately drive more sales.
EBC allows you to showcase your product's unique features and benefits more than what's included in the bullet points, product features, product descriptions, and the product title. The program also allows you to use high-quality product images on a white background and include other multimedia elements.
Such content quality gives potential customers a more immersive shopping experience on Amazon.
To take full advantage of EBC, here are the things you can do:
Showcase your product's benefits with clear and informative content.
Highlight your unique selling points, including any features or benefits. Do competitive research to differentiate your products from your competitors.
Use high-quality images and videos, showing product features and demonstrating functional products while in use.
Your product photos and videos should be clear and well-lit, with plenty of details that help customers fully understand what they're buying.
By providing customers with detailed information about your products, you can effectively communicate your product's benefits and the brand's commitment to quality and customer satisfaction. Eventually, this helps you in fostering trust with them.
5. Launch Well-Planned Special Offers
Offering special offers can significantly increase your Amazon Conversion Rate Optimization (CRO) and boost your sales. Who can resist a fantastic deal? Not many. However, it is crucial to note the offers should appeal to your target market and encourage them to take action. Here are a few tips:
Determine what they look for in a product listing.
What does your target audience value in a listing that entices them the most? Do they look for product variations or limited offers? Offers irrelevant to your target market could result in low conversion rates and minimal ROI. You should also consider your niche and competitors to avoid launching similar offers that they may have already done.
Appeal to the senses and communicate clear offers.
A short but clear message is easy to remember. Short and sweet creativity will make it more appealing to the senses. Product titles and product descriptions highlighting the benefits and savings customers can get will increase their chances of adding the product to their cart.
Give what you offered as promised to avoid negative reviews.
It is crucial to implement your special offers properly. Timing is essential, and you must ensure your customers can easily apply the offer during checkout. Also, prepare enough stock to meet the expected demand during the promotion period.
Fantastic deals increase click-through rates, bring more traffic to a product listing, drive sales, and increase the conversion rate. They help you find a competitive edge in the huge Amazon marketplace.
6. Devise an Excellent Product Pricing Strategy
Amazon is an extremely competitive marketplace. Competitive pricing is crucial to get those conversions and thrive on the platform. Thus, implementing an excellent pricing strategy is one of the best ways to optimize your conversion rate on Amazon.
Competitive pricing gives you more opportunities to stand out from the Amazon crowd. It helps you get a higher ranking in Amazon's search results and a chance to win the Buy Box.
🧐 The Buy Box is where Amazon features top Amazon sellers' products. Grabbing this spot immensely increases brand visibility and conversion rate.
Here's a step-by-step procedure on how to develop your pricing strategy:
Step 1: Conduct thorough research in your market niche and analyze your competitors' pricing. You should be looking at not only your direct competitors but also indirect competitors, as this will give you a better understanding of overall market trends and pricing expectations.
Once you have this information, you can start creating a pricing strategy that fits within the market range and stands out from your competition.
Step 2: Utilize Amazon's pricing tools. Amazon offers a dynamic pricing system that allows you to automatically adjust your prices based on the competition and other market factors. Additionally, Amazon provides you access to various promotional tools such as Lightning Deals, Best Deals, and Deals of the Day.
Step 3: Regularly monitor and track your pricing strategy. Amazon is a dynamic marketplace, so pricing trends can change rapidly. By regularly analyzing your sales and adjusting your pricing strategy, you stay ahead of your competition and continue to drive sales and conversions.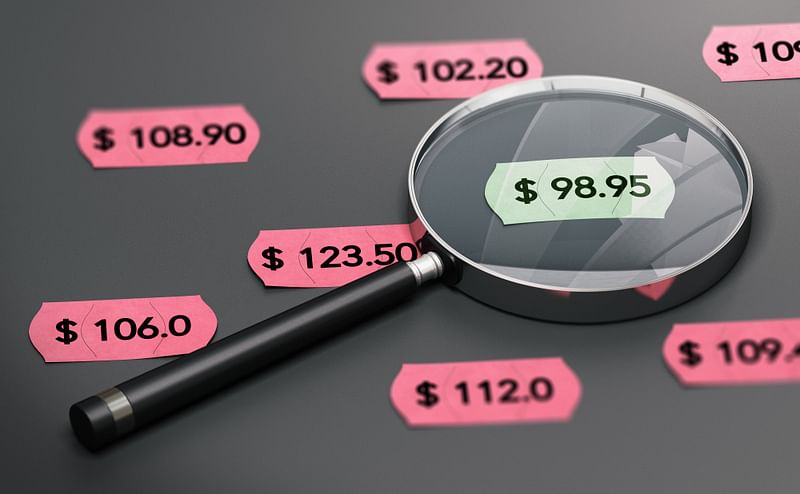 7. Make the Most of Amazon PPC
In today's digital age, advertising has become essential for companies looking to grow their online businesses, and Amazon is no exception. Using different advertising methods like Sponsored Adscan help improve CRO.
That said, you don't have to utilize all of them. Choose the most suitable method(s) for your specific goals and ensure your ad spend will be worth it.
Within Amazon, you can try Amazon Sponsored Products, Amazon Sponsored Brands, Amazon Display Ads, and Amazon Stores, among other programs.
Amazon Sponsored Products ads are for your product listings to gain more visibility.
Amazon Sponsored Brands' main goal is to raise brand awareness.
Amazon Display Ads ensure you can reach audiences in and out of the Amazon platform.
Amazon Stores allow you to lead customers to your stores and be aware of all your products.
These advertising programs can help increase visibility, drive traffic, and improve conversion rates for businesses selling on Amazon.
8. Advertise in Multiple Channels
Leveraging multi-channel marketing is a success factor in Amazon conversion rate optimization. Marketers can capture a wider audience by ensuring visibility across various platforms, enhancing product discoverability, and gaining customer trust.
Each advertising channel has its unique value.
Social media platforms like Facebook and Instagram are best used for your image and video content and ads.
Email marketing allows personalized communication with potential buyers, nudging them toward conversion.
Google AdWords puts your product at the forefront when customers actively search, driving high-intent traffic to your Amazon page.
Remember, tracking and analyzing the performance across different channels is equally crucial as creating them. Leverage analytics tools to get insights into each channel's effectiveness and optimize accordingly.
9. Manage Customer Reviews
Many customers rely on reviews when buying a product. Reviews provide information about the item from a customer's perspective, which may or may not persuade them to purchase. If they don't buy yours, it could be due to bad reviews or a lack of social proof on your product listing.
Here are some tips for managing buyers' feedback on your products:
| | |
| --- | --- |
| 🔎 | Monitor and manage your Amazon reviews regularly. |
| 🙂 | Highlight positive reviews to give buyers confidence in choosing your product. |
| ☹️ | Respond appropriately to negative ones to eliminate buyers' doubts. |
| 🏆 | If you are successful, Amazon rewards you with badges such as Amazon's Choice, Best Seller, and many more to foster customer trust and conversion. |
| ⭐ | Encourage customers satisfied with your product quality to leave reviews politely and non-intrusively. You may add a request within your product packaging. Amazon's Early Reviewer Program can also aid in generating initial reviews for new products. |
| 🔧 | Consider using review management tools to monitor and effectively manage your satisfied customers' reviews. These tools provide alerts for new reviews, enabling quick response times. |
10. Maintain Excellent Seller Performance Metrics to Avoid Amazon Account Suspension
Maintain a good ranking on Amazon to ensure that the conversion rate and the conversion optimization you worked hard for will not go to waste. You can achieve this by adhering to Amazon's rules and regulations and tracking metrics.
Below are the seller performance metrics to track to avoid low rankings and keep account suspension at bay:
Order Defect Rate - Calculates the number of orders reviewed or returned as defective.
Valid Tracking Rate - Indicates the rate of packages with valid tracking numbers before shipment.
Inventory Performance Index - Refers to the performance of your Amazon FBA inventory over time.
Pre-Fulfillment Cancelation Rate - The number of orders you cancelled (due to out-of-stock) after a potential customer had already placed their order.
Late Shipment Rate: Indicates the frequency of your delayed shipments.
Seller Rating: An overall performance rate of your customer service, fulfillment process, and more.
Surpass the Average Conversion Rate with Seller Interactive
Selling on Amazon is a challenging venture. It involves time-consuming and complicated processes like search engine optimization, account health maintenance, campaign creation, etc. But it doesn't always have to be that way. With the right knowledge about Amazon's CVR and how to achieve it, success may be just around the corner!
Not getting enough conversions for your Amazon products? Work with Seller Interactive to improve your conversion rate.
Book a call now for more information.