Imagine this: You've poured your heart and soul into perfecting your product, optimizing your listings, and building a strong brand presence on Amazon. Suddenly, you notice your sales dropping and your brand reputation taking a hit. What could be causing this setback? The culprit might be unauthorized sellers on Amazon silently infiltrating the marketplace.
In this blog post, we'll discuss identifying unauthorized Amazon sellers. After reading this article, you'll know how to protect your brand's integrity and maintain a strong foothold in the competitive Amazon ecosystem.
What Is an Unauthorized Seller on Amazon?
An unauthorized seller on Amazon refers to an individual or entity that sells a brand's products without permission from the brand owner. These unauthorized resellers sell expired or counterfeit products, stolen items, and other products that break Amazon rules.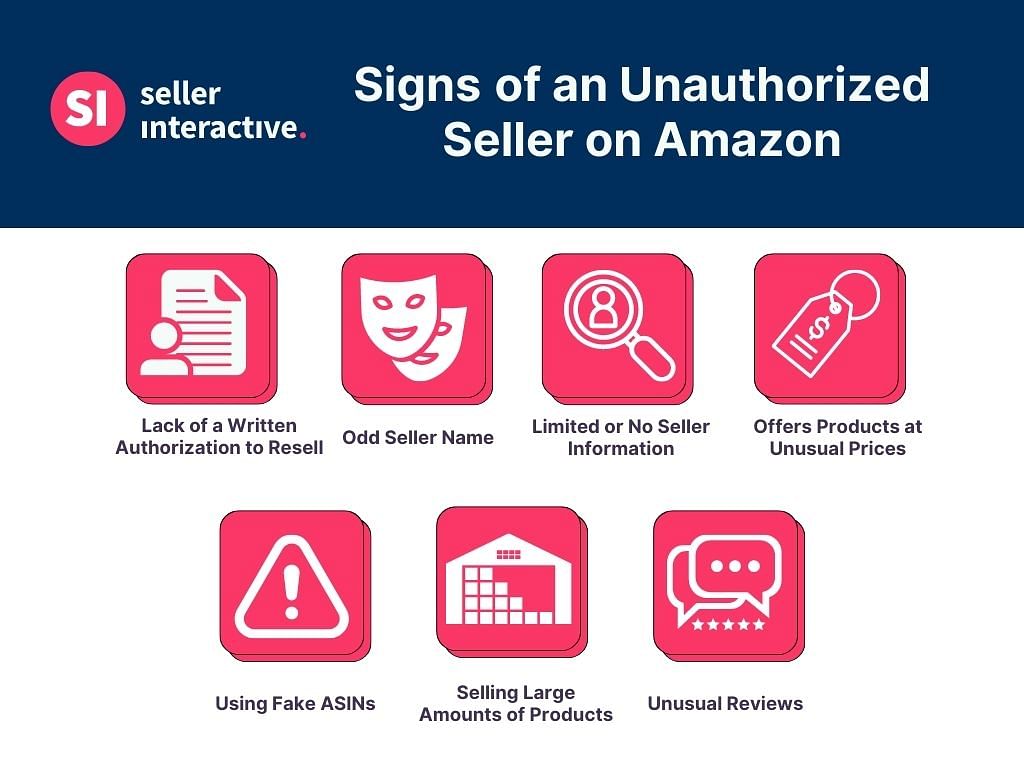 7 Signs of an Unauthorized Seller on Amazon
Unauthorized resellers have been a challenge in the Amazon marketplace for so long. Currently, there are 9.7 million sellers on the platform, where nearly 2 million are active. In this huge population, how do you spot unauthorized Amazon sellers?
Here are seven key indicators to identify these illegitimate sellers:
1. Lack of a Written Authorization to Resell
Legitimate sellers must have proper authorization from the brand owner to resell their products. If a seller lacks such documentation, it's a major red flag. The best approach to verify legitimacy is to get written approval from the brand owner.
Without written permission, reselling items will raise concerns about product authenticity. It is recommended that resellers get written authorization from the brand owner to avoid any legal issues or potential harm to the reputation of their Amazon business.
2. Odd Seller Name
Unauthorized sellers on Amazon may use odd or unrelated business names that do not reflect the brand or product they are selling to avoid detection. As a brand owner, watch for suspicious seller names that try copying your own. This will assist you in identifying and taking action against them.
3. Limited or No Seller Information
Unauthorized sellers usually provide little to no information about their business, especially contact information. This can make it difficult for authorized sellers and buyers to verify their legitimacy. This lack of transparency is a common tactic unauthorized retailers use to escape detection and the inspection of authorized sellers.
4. Offers Products at Unusual Prices
Illegitimate sellers on Amazon offer unusually discounted prices to lure customers into buying their products. Shoppers might think they're getting a good deal, but it's another classic sign that the product is not authentic. Since most shady resellers sell counterfeit or expired products, they price them as low as possible to create a false impression that customers can save more.
5. Using Fake ASINs
An Amazon Standard Identification Number (ASIN) is a 10-digit unique alphanumeric number used to identify a product on Amazon. Each ASIN is unique to an Amazon listing. Sellers can use ASINs to monitor and manage their inventory.
Counterfeit products are listed with fake ASINs to avoid detection. Unauthorized sellers do this to hide the true identity of their products and evade detection. It allows them to sell items against Amazon's policies without getting caught easily.
6. Selling Large Amounts of Products
Unauthorized sellers might have a large inventory of a specific product, as they often purchase at wholesale prices. It is also one of the reasons why the prices are unusually lower than similar listings.
7. Unusual Reviews
Authorized sellers typically have positive reviews from satisfied customers. Therefore, a consistent lack of reviews or an abundance of negative reviews can indicate that a seller is unauthorized or distributing counterfeit goods.
You should browse the listings and check if they have fake reviews. Look for patterns of overly positive language and repetitive content. Also, check if a product experiences a sudden rise in positive ratings within a short time frame.
How Unauthorized Sellers Harm Your Brand
Now that you know how to identify rogue sellers on Amazon, let's find out how these sellers impact authorized sellers like yourself on the platform.
1. Damaged Reputation
Unauthorized Amazon sellers can damage a brand's reputation by selling counterfeit or poor-quality products under your brand name. Since these sellers operate without the brand's consent, they might not adhere to its quality control, customer service, or warranty standards.
Customers who receive poor-quality items may associate their bad experience with your brand. This might lead to a decline in customer trust and loyalty. Aside from affecting customer satisfaction, it can hurt your positive brand image.
2. Loss of Brand Value
When unauthorized resellers offer your products at a lower price, it can devalue your brand's worth. These sellers undermine your brand's minimum advertised price (MAP) policy, potentially leading to losing the Buy Box spot. This can decrease sales as most Amazon shoppers choose the best deal over the others.
Consequently, authorized resellers may also feel discouraged from partnering with you if they believe they cannot compete with unauthorized sellers.
3. Product Concerns
Counterfeit and low-quality products sold by unauthorized sellers can lead to potential safety and health risks for customers. This can result in liability issues for your brand, even if you were not responsible for producing these inferior products.
Additionally, customers may leave negative reviews on your product listings because of their unpleasant experiences, which can further damage your brand image.
How to Report Unauthorized Sellers
As a brand owner, protecting your reputation and sales is important by reporting unauthorized sellers. Here are a few steps to help you:
Sign in to your Amazon seller account.
Open a new browser tab > Access brandservices.amazon.com.
Hover to Sign In > select Brand Registry.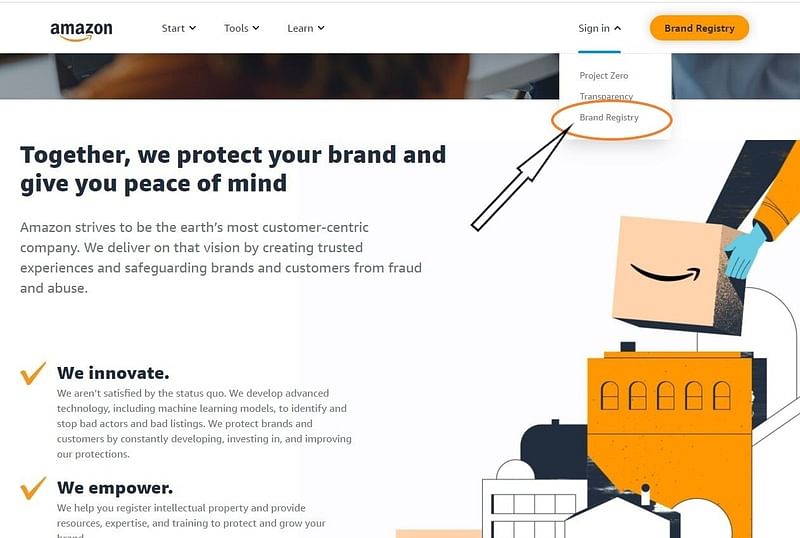 Hover to the " Protect" button and Select Report Violation from the drop down menu.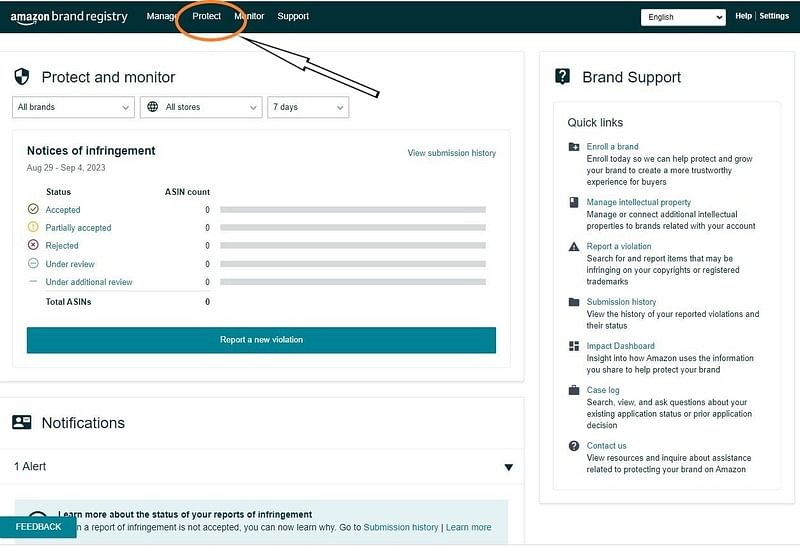 Select Marketplace > Provide the ASIN where you want to report an unauthorized seller > Click Search.

Once the listing shows up, click on Show Offers and select the unauthorized seller(s) you would like to report. (Note: Please never select the whole ASIN, as it will report the entire listing, including your offer.) Just select any competitor/seller instead.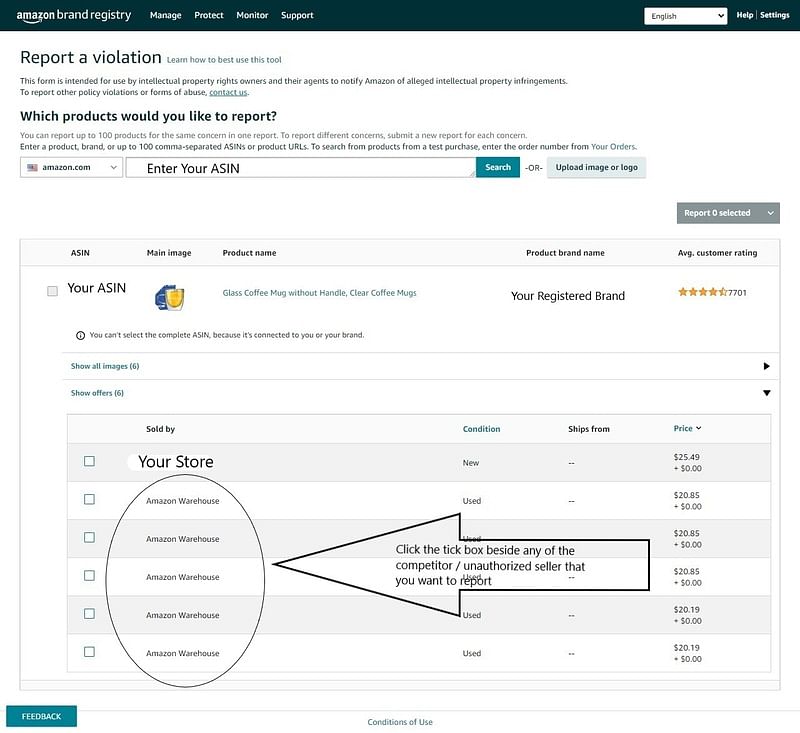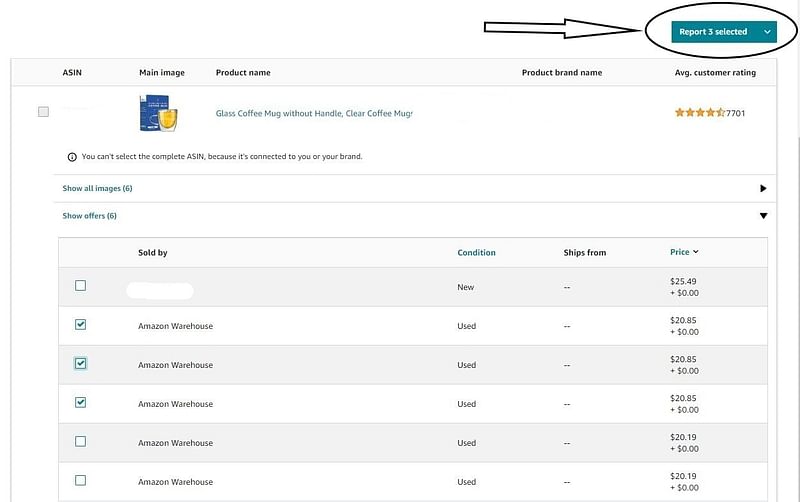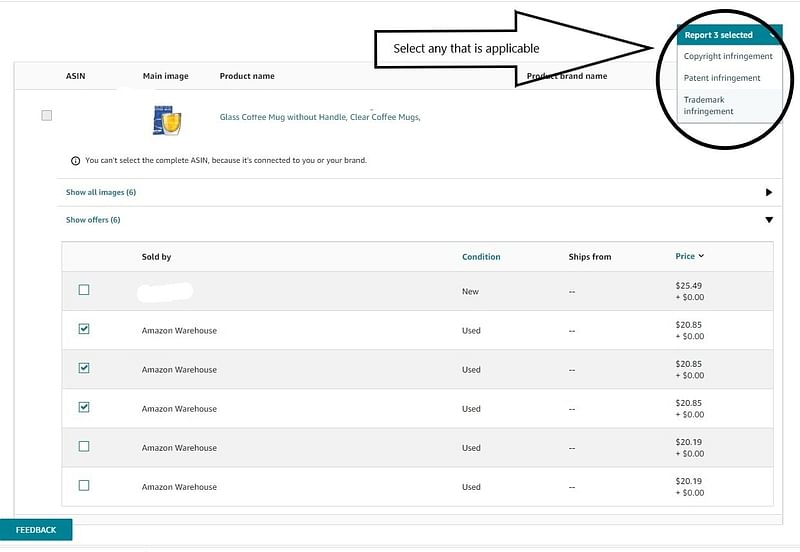 Provide all the necessary details, including the contact person and active email address, and click Submit.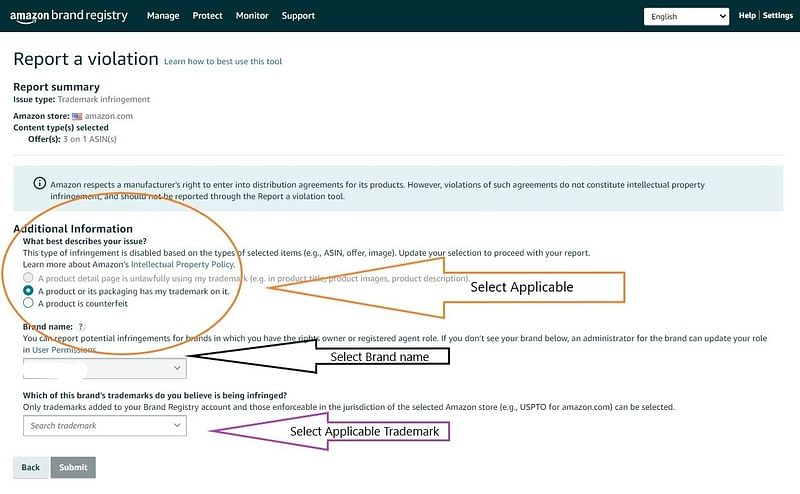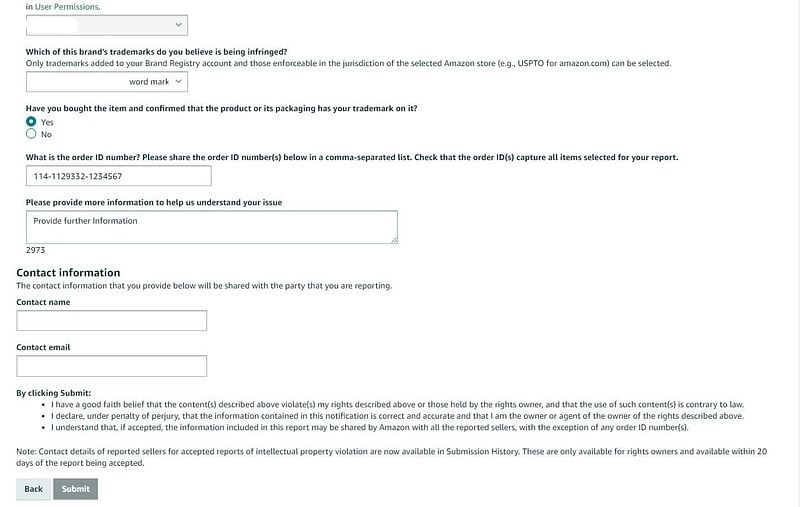 Before reporting a seller, performing test buys first is a good idea. This allows you to verify if the unauthorized seller violates your brand's policies or distributes counterfeit products. Test purchases can also serve as evidence when reporting them to Amazon.
After filing a formal complaint and emailing Amazon, contact Seller Support to follow up on your concerns and ensure they are addressed.
How to Remove Unauthorized Amazon Sellers
There are more ways to stop unauthorized sellers on the platform. Check out the following steps: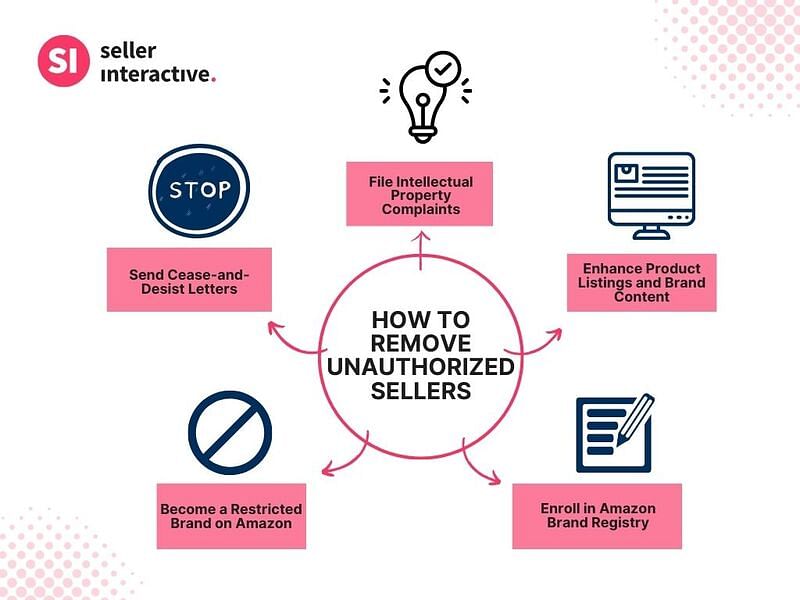 1. Send Cease-and-Desist Letters
Once you have identified unauthorized sellers and gathered evidence, send them a professionally drafted cease-and-desist letter. This letter should clearly state your concerns, outline the legal basis for your claim, and demand the immediate removal of the unauthorized listings.
Be firm but respectful when communicating, as unauthorized sellers may be more likely to cooperate if treated professionally.
2. File Intellectual Property Complaints
If unauthorized sellers don't respond to your cease-and-desist letters, consider filing an intellectual property (IP) complaint with Amazon. You must provide details about the unauthorized listings, links to your registered trademarks, and evidence of your ownership.
Filing an IP complaint with Amazon can result in removing the unauthorized listings and possibly suspending the unauthorized seller's account.
3. Enhance Product Listings and Brand Content
Another way to combat unauthorized sellers is to improve product listings and brand content. Creating informative, visually appealing, and unique listings can make it more difficult for unauthorized sellers to copy your content.
High-quality listings can help distinguish your products from unauthorized sellers and prevent customer confusion.
4. Become a Restricted Brand on Amazon
Some brands have become restricted on Amazon to protect their products from unauthorized sellers. Amazon or the brand owner decides to limit access to the brand to certain sellers. This also means that sellers must obtain approval to sell that brand, significantly restricting the freedom of unauthorized access.
Doing this will give you better control over who sells your products and ensure that only authorized sellers offer them.
5. Enroll in the Amazon Brand Registry
Enrolling in the Amazon Brand Registry gives you access to additional tools and services for protecting your Amazon brand. This program helps brands identify and remove counterfeit and unauthorized products more easily.
Additionally, the Brand Registry offers search and reporting features that make it easier for you to find and report potentially infringing listings. If you already have a request or trademark via the IP Accelerator program, processing the approval for the Amazon Brand Registry will take at least two weeks.
Safeguard Your Brand From Unauthorized Sellers With Seller Interactive
You can better identify and deal with unauthorized sellers effectively by staying vigilant and remembering the telltale signs we've discussed. Your brand deserves the protection it needs. Aside from registering your brand, working with an Amazon brand protection agency can maximize the safeguarding of your Amazon business.
At Seller Interactive, we understand your challenges in establishing a robust brand presence on Amazon. Our comprehensive brand protection services are designed to help you deal with unauthorized sellers swiftly. Don't let unauthorized sellers erode your brand's value and potential. Book a call with us today and secure your brand's future.