Seasoned sellers like you have already utilized various ad types and campaigns on Amazon. To maintain and boost the growth of your business, reach out to a wider and more engaged audience—level up your game with the help of influencers. If you're wondering how to find an influencer on Amazon, you're in the right place!
From knowing how the Amazon Influencer Program works to leveraging social media platforms and third-party influencer marketplaces, this guide will provide actionable tips on finding influencers plus 8 brand-boosting strategies that will help you:
Enhance your visibility,
attract more customers,
and ultimately skyrocket your sales on Amazon.
Tip #1: Research About Your Target Audience
To find an influencer on Amazon who can effectively boost your brand, you must first know your target audience. Only when you deeply understand your target audience can you identify the influencers that genuinely appeal to them.
Know your target audience.
Identify your target audience's essential demographics: age, gender, location, and income. This information aligns your brand with suitable influencers who share your target demographics, making your marketing efforts more effective.
Find what interests potential customers.
What kind of content does your audience spend the most time on?
What are their hobbies or passions?
Base your content to the answers you'll get. For instance, if your target audience is interested in fitness and wellness, partnering with a fitness influencer through the Amazon Influencer Program would greatly benefit your brand.
Identify the channels your target audience uses.
While Amazon is an excellent starting point, consider whether your audience engages with influencers on other platforms, like Instagram or YouTube. This way, you can target influencers with a presence on those platforms and their Amazon Influencer Storefronts.
Before we dive deeper into Amazon influencers, here's a refresher about it:
Tip #2: Understand Influencer Types on the Amazon Influencer Program
Identifying the different types of influencers on Amazon can help you find ideal partners who can create compelling content and engage with your target audience. In this section, we will delve into the key categories of influencers that can boost your brand.
Brand ambassadors
Brand ambassadors are influencers who consistently promote brands and products. They deeply understand the brand's identity and values and can create genuine and authentic content to market the products.
To find a brand ambassador for your brand on Amazon, look for influencers who already match your products and niche or show genuine interest in your brand.
Content creators
Content creators produce original and engaging content in various formats, such as videos, blog posts, and product reviews. These influencers showcase Amazon products while sharing their opinions and feedback about the item.
Reviewers and bloggers
Reviewers and bloggers create in-depth reviews, comparisons, and round-ups of various products on Amazon. They have a strong following, and their opinions can make or break a sale.
To find relevant reviewers and bloggers, search for those specializing in your product category and analyze their reviews on Amazon storefronts. You can also browse their personal websites or social media profiles to know their niche expertise.
Social media influencers
Social media influencers have a significant presence on various platforms and can seamlessly incorporate your brand into their daily content. They often belong to the Amazon Associates Program, earning a commission from Amazon when their followers purchase products through their affiliate links.
To find social media influencers that align with your brand, search for those with a substantial following in your niche and check their engagement levels, relevance, and audience demographics on their chosen platform.
Tip #3: Explore Amazon Influencer Storefronts
The quickest way to find influencers on Amazon is through the #FoundItOnAmazon hashtag.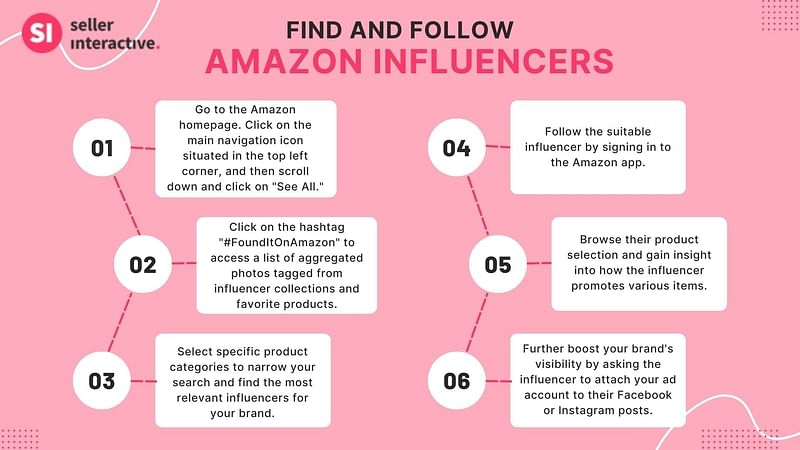 You can also find influencers on Amazon Live. These methods show influencers who create valuable content to promote various products. Assess their communication style, professionalism, and audience engagement. Note suitable influencers that align with your brand.
Then, visit their Amazon influencer storefront. Identify whether they fall into the category of micro-influencers or celebrities, and factor this into your decision-making. Remember—your choice should always hinge on your business scale and brand objectives.
Tip #4: Explore Social Media Platforms
Besides searching through Amazon Live and storefronts, you can also find influencers on popular social media platforms who use their accounts for social media marketing. To apply successfully for the Amazon Affiliate program, users must have an active Youtube, Facebook, or Instagram account.
Instagram
If your target audience is interested in images and videos, tap Amazon influencers on Instagram. Searching through hashtags is the most efficient way to find them. To ensure your partnership is worth it, work with an influencer with many engaged followers because they have proven informative, educational, and high-quality content.
TikTok
TikTok has become a go-to platform for viral content and short-form videos. As with Instagram, you can use platform-specific hashtags to find influencers relevant to your brand. As TikTok is known for its high-energy, entertaining, and high-engagement content, ensure the influencers you find align with your brand's tone and values.
YouTube
YouTube is an excellent platform for finding influencers who create long-form content, such as product reviews and tutorials. These videos can be particularly helpful for showcasing your products and demonstrating their value to potential customers.
To find suitable Amazon influencers on YouTube, you can search for videos featuring similar products and assess the influencer's content quality, relevance to your brand, and audience engagement.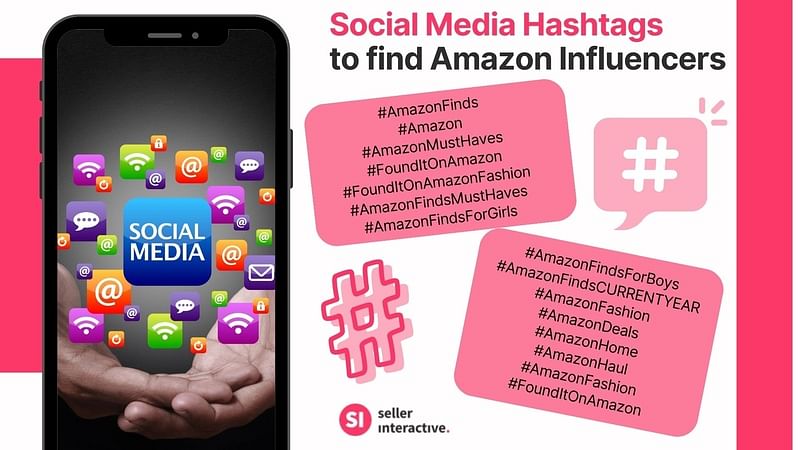 Tip #5: Leverage Influencer Marketplaces and Directories
Another effective way to find Amazon influencers is by using influencer marketplaces and directories. Utilize platforms like Upfluence, Famebit, Levanta, and Fiverr to search for active influencers on Amazon with their own Amazon Storefront.
While browsing through influencer directories, you can find suitable influencers by reviewing their profiles, checking their metrics, and looking at their previous collaborations. This information will help you determine if the influencer fits your brand and has experience promoting products on Amazon.
To get started with these platforms, create an account and explore available influencers. Use filters to narrow your search based on your target audience, niche, and specific Amazon programs such as Amazon Live or Amazon Influencer Storefronts.
Remember that while some directories charge a fee for their services, others offer free trials or basic access for a limited time. Take advantage of these offers to test the platform and find influencers that can help boost your presence on Amazon.
Tip #6: Connect With Influencers
Once you've identified potential Amazon Influencers relevant to your niche and brand, it's time to get them into your network.
Reach Out Through an Influencer's Amazon Storefront
Utilize their preferred communication channel, such as social media platforms or email, to express your interest in partnering with them to promote your products on their Amazon Influencer Storefront.
Craft an authentic message stating your clear intentions and information about your brand and products. Keep the tone conversational, respectful, and tailored specifically to their interests.
Begin Creating Content with Influencers
After successfully connecting with the influencer and explaining your goals, start creating engaging content together for their Amazon Storefront. Whether your collaboration involves sponsored posts, reviews, or featuring the products in their Amazon Live streams, ensure that it aligns with their audience's preferences and your brand image.
Keep communication lines open and discuss the specifics of your agreement. Provide the influencer with the necessary information and resources, such as product samples and promotional materials, to create content for their Amazon Storefront Influencer page.
Tip #7: Check and Monitor Data and Statistics
Checking data and statistics begins when you are still looking for an influencer and once you've partnered with them. Here are the ways to ensure you base decisions on data.
Analyze Influencer Metrics and Authenticity
Consider Amazon Influencer Storefronts' engagement, relevance to your brand, and the influencer's genuine interaction with their audience.
Explore the Amazon Influencer Program and search for influencers based on their Amazon Storefront, product categories, and audience demographics.
Analyze the influencer's Amazon Storefront to see how well it aligns with your brand and products.
Check their Amazon Live and Amazon Associates Program performance to gain information about the effectiveness of their content.
Monitor and Measure Influencer Campaigns
Continually monitor and measure the effectiveness of your influencer campaigns on Amazon.
Track essential metrics, like Amazon Storefront traffic, conversions on promoted products, and engagement with influencer content.
Quick Review: How Do I Find and Follow Amazon Influencers?
Finding and following Amazon influencers is as easy as curating your own social media following. The best part is—you'll also be training your algorithm to find influencers for you. To recap, you can find and follow Amazon influencers on the following:
Amazon #FoundItOnAmazon and Amazon Live
Social Media and Content Generating Platforms
Freelance Job Marketplaces
Networking Events
How to Find an Influencer on Amazon: Partner With Seller Interactive
The long-term benefits of partnering with influencers can be invaluable to your brand. Building trust and credibility among your target audience, reaching a wider audience, and increasing brand awareness are just a few of the many advantages of influencer marketing.
To get the most out of utilizing Amazon Influencers, partner with us here at Seller Interactive. We offer Amazon full account management, which includes leveraging the power of the Amazon Influencer Program to help you boost your sales and grow your business.
Book a call with us now. Let's ensure that you are taking full advantage of all the opportunities that come with Amazon Influencer marketing!