Buying in bulk for resale is a standard business practice in the modern, globalized economy. From online marketplaces like eBay and Amazon to local flea markets and boutique shops, entrepreneurs are capitalizing on the price differences between wholesale and retail.
But is this practice always legal? This article sifts through the legalities of bulk buying and reselling, highlighting the key considerations for those looking to venture into this business model.
The Concept of Buying in Bulk and Reselling
Buying in Bulk = You purchase large quantities of products at discounted prices.

By buying wholesale products, you resell the items to online retailers or directly to customers at a marked-up price, ensuring a profit margin.
Reselling takes on many different forms. Some individuals or businesses focus on retail arbitrage, where business owners buy products on sale or at discounted rates. You sell them through other channels like online marketplaces.
Resellers play an essential role in the supply chain. You're a bridge between manufacturers and customers. Retailers, in particular, depend on resellers who can deliver consistent quality and timeliness. In turn, they can meet the needs and demands of their customers.
Simply put, buying wholesale items in bulk and reselling them can be lucrative. All you need is a keen eye for good deals, a platform or place to sell, and understanding of your customers' needs.
Is It Legal to Buy In Bulk and Resell?
Yes. This practice is generally legal. However, certain products may have restrictions or require licenses. Brand agreements, intellectual property rights, and regional laws can also influence what can be resold. It is necessary to research specific products and local regulations before engaging in this business model.
Legal Considerations in Reselling
Be compliant and updated on rules and regulations. Listed below are legal factors to think about for your reselling business.
1. Intellectual Property
Trademarks, copyrights, and patents are forms of intellectual property protecting the rights of the creators and owners. Don't violate any of these legal components held by the original manufacturers or trademarks. Infringing on these rights can result in legal action against you and may include fines or other penalties.
2. Licensing and Permits
These papers may be necessary depending on the types of products you are reselling and the jurisdiction in which you operate. Obtaining the appropriate licenses and permits proves you're conducting a legitimate business.
3. Consumer Protection Laws
These laws often prohibit deceptive or unfair trade practices and are designed to curb the trade of counterfeit goods. Resellers are responsible for representing their products. Violating them can lead to legal repercussions and harm your brand reputation.
4. Product Labeling
It is legal to repackage bulk products into smaller packages for resale. But you must accurately disclose the product's origin and any modifications made to the original product. Labeling requirements vary by authority, so researching and adhering to the guidelines in your area is a must.
A Step-by-Step Guide on Buying in Bulk for Resale on Amazon
Now that we've established its legal aspects, venturing into this practice becomes a clear path forward.
The profit potential is enticing. But, like any enterprise, winning requires knowledge and strategy. From sourcing the right products to understanding Amazon's specific guidelines, there's a lot to navigate. It would help if you approached it methodically to succeed in the wholesale marketplace.
Follow this step-by-step process to maximize your bulk buying endeavors on Amazon.
1. Research Products
Target well-known brands with a solid market footprint and existing demand. Use tools like Jungle Scout for product research. Focus on sales rank, reviews, and market competition.
Remember, it's not just about finding a product; it's about seeking one that aligns with the market demand and offers a cutthroat edge.
2. Find Wholesale Suppliers
Search for a reliable wholesale supplier offering the products you aim to sell in bulk at an attractive cost. Online directories, trade exhibitions, and digital marketplaces are great places to discover such suppliers.
Contact manufacturers directly to inquire about becoming a distributor for their products. Don't forget to verify the supplier's credibility, order minimums, and delivery timelines.
3. Negotiate Prices and Terms
Once you've identified potential products and their respective wholesale suppliers, the next crucial step is to initiate contact and begin negotiations. Engagement goes beyond price discussions; it's about forging a mutually advantageous relationship.
Check out these factors when negotiating:

Discount for Larger Orders
📦➡️💰
Many wholesale companies offer tiered pricing, with the per-unit cost dropping as you order more items.
This process can boost profit margins. But the quantities should match with sales projections to avoid overstocking.

Exclusive Distribution Rights🌍🔒
Gaining exclusive rights to sell a product in a particular region or platform is a privilege.
While this might come at a premium, the benefits of reduced competition can often outweigh the costs.

Payment Options💳🕒
Flexibility in payment can be a boon, especially for startups or businesses with cash-flow considerations. Discuss terms like net 30 or net 60, which allow you to pay the invoice 30 or 60 days after receiving the goods.
Shipping Lead Times🚚⏳
Determine the delivery time for the products. Lead time management can help you efficiently run inventory and fulfill customer demand without delays.
Once you've ironed out the details, secure a written contract stating all terms and conditions. Aim to balance profitability and order quantities that won't result in excessive inventory.
4. Place Your Order
Place your bulk order with an agreed-upon price and terms. Opt for safe payment options like PayPal or direct bank transfers.

If the supplier is overseas, factor in import duties, taxes, and shipping costs. Confirm the delivery date and shipping details. More importantly, keep close contact with the supplier to avoid any issues or delays.
5. Inspect the Products Upon Receipt
Examine the product for quality, accuracy, and completeness. Check for any inconsistencies or damages that might have happened during transit. Address any issues with your supplier before listing the products for sale on Amazon.
Where Can You Find Cheap Wholesale Products?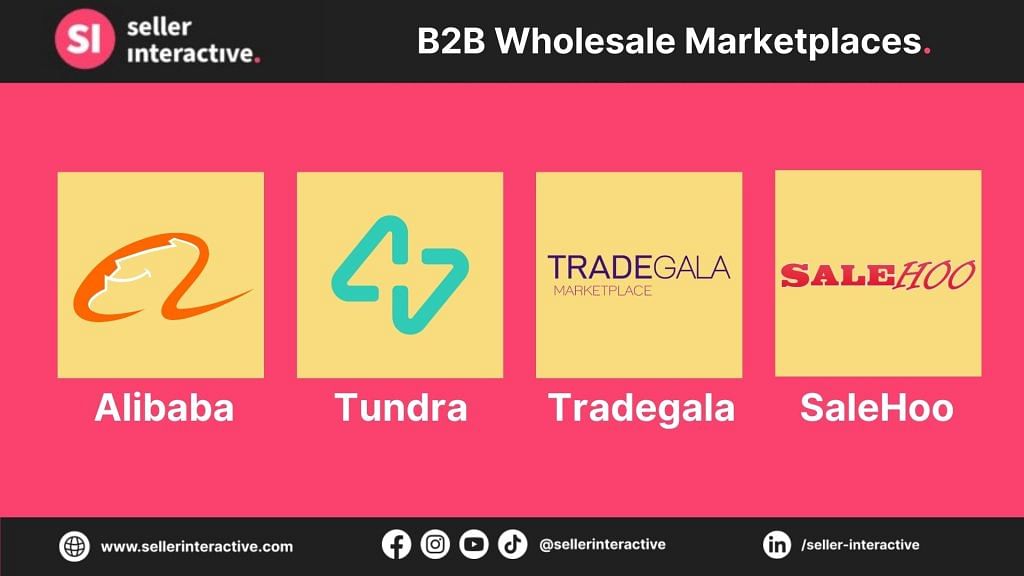 Finding cheap wholesale products can be daunting. When reselling, you must secure items at low wholesale prices to mark them up to a higher price (retail price). Doing so can optimize the profit margin between the wholesale discount and retail prices.
But here's the good news. The best inexpensive wholesale products can be found in a B2B marketplace. These platforms cater to retail business owners looking to buy wholesale and offer a wide range of products from suppliers globally.
Not only do they provide a centralized location to discover and compare products, but they also have tools and resources to help buyers make wise decisions. From detailed product descriptions, supplier ratings, and reviews to secure payment gateways, B2B marketplaces streamline the buying process.
Best Wholesale Products to Purchase
B2B is where you can buy cheap wholesale products. But which of these products are ideal for resale?
Electronics and Accessories: These items are always in demand, from smartphones to earbuds and chargers.
Fashion and Apparel: Trendy clothing, shoes, and accessories can attract many customers.
Fitness and Health Products: As health consciousness rises, fitness bands, supplements, and health monitors are gaining traction.
Beauty and Personal Care: Cosmetics, skincare items, and grooming products have a vast market.
Home and Kitchenware: Popular choices include cookware, utensils, and home decor.
How to Market Your Products on Amazon
Understanding wholesale and reselling is just the beginning. Make your products shine on Amazon with these vital pointers:
1. Set Up Your Seller Account
This process is quite simple. Just visit the Amazon seller registration page and follow the steps provided. Select the account type that suits you—Individual or Professional.
The Professional account costs $39.99 monthly and has more features, so consider it if you're selling more than 40 items monthly.
2. List Products
Create high-quality product listings. In your Seller Central account, go to the "Inventory" tab and pick "Add a product." You can search for an existing product listing to add your product or create a new one if your product doesn't already exist on the platform.
3. Optimize Your Listings
Attract potential buyers by writing unique and engaging product titles and descriptions. Use relevant keywords, but avoid keyword stuffing. Optimize your product images using high-resolution photos with a white background, showing different angles of your item and highlighting important features.
4. Explore Amazon's Advertising Solutions
Sponsored Products ads promote individual listings, while Sponsored Brands ads help you advertise multiple products or your brand. Advertising can increase your visibility on Amazon and bring in more potential customers.
4. Handle Shipping and Returns
There are multiple shipping options for Amazon selling: self-service or Amazon's Fulfillment by Amazon. This service comes with additional fees but can save you time and resources in managing your inventory and shipping.
Have a clear return policy in place for handling returns and exchanges. Familiarize yourself with these guidelines and be prepared to manage complaints and concerns. This way, you can maintain customer satisfaction.
Amazon Selling Made Easy With Seller Interactive
Selling on Amazon may have a big market, but there's also much to learn. It's not only about wholesale and reselling. It's about knowing the nuances of the market, complying with legal requirements, and marketing your products to the right audience.
But you no longer have to dip your toe into the unknown and rely on intuitive thoughts. Seller Interactive can make your journey smooth and efficient.
Why struggle with the steep learning curve of Amazon selling when you can have us? Our team can help you stand out in a crowded selling landscape, from full account management to product listings.
Book a call now!