Are you considering expanding your online business and wondering which marketplace is the right fit for you? The decision to start selling online is a significant step, and you're probably thinking the age-old question: "Should I be selling on Walmart vs. Amazon?"
This dilemma is common for many ecommerce entrepreneurs. But selecting the right platform makes a difference on someone's ecommerce journey. To help you make an informed decision, we'll break down each platform's key differences, benefits, and challenges in this article.
Selling on Walmart
Walmart is a well-known retail giant with a significant presence in the ecommerce world. The Walmart marketplace allows businesses to sell their products on the platform alongside the marketplace's own products.
Is It Profitable to Sell on Walmart?
While it's true that Walmart has been playing catch-up with Amazon in the ecommerce space, it's still profitable to sell on Walmart. According to Jungle Scout's State of the Walmart Seller Report, 95% of Walmart marketplace sellers thrive in their ecommerce businesses. More than half of these sellers earn over $100,000 in annual revenue.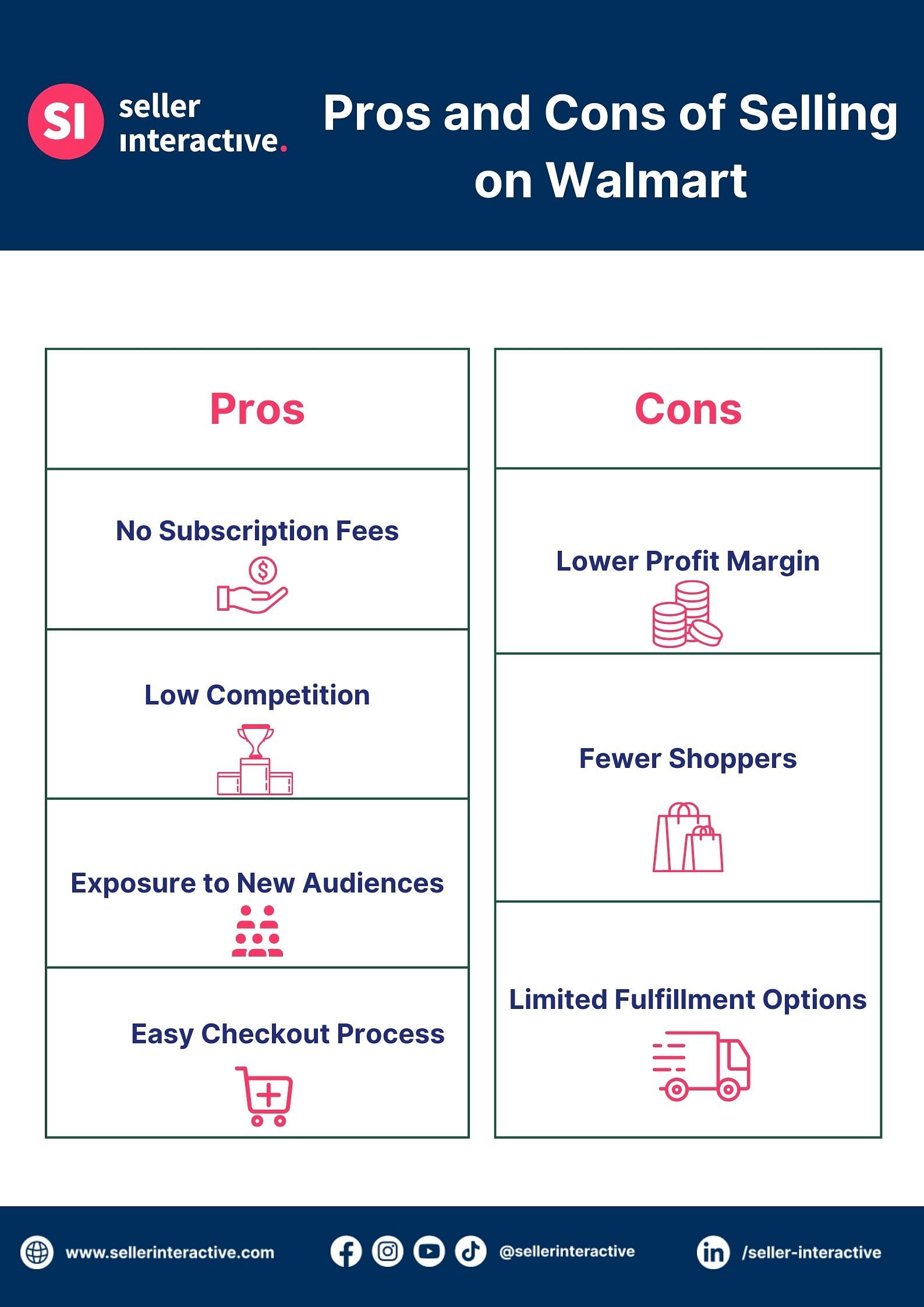 Benefits of Selling on Walmart
Let's start weighing the pros and cons of selling on the Walmart marketplace. Here are the benefits Walmart retailers enjoy from the platform.
No Subscription Fees
Like Amazon, Walmart Marketplace charges 8%–15% in referral fees to sellers. But, a key advantage of selling on Walmart is that there are no subscription fees. Unlike Amazon, which charges a monthly fee for professional seller accounts, Walmart allows you to sell on its platform without the burden of additional costs.
This allows Walmart marketplace sellers to reinvest more of their profits back into their online business and enhance their growth potential.
Low Competition
While Amazon has a much larger pool of sellers, Walmart's marketplace is less crowded. Amazon has 1.5 million active sellers, while Walmart's marketplace has a little over 150,000. This makes it easier for Walmart sellers to stand out and draw in customers.
When there are fewer retailers competing for attention, you can gain a higher market share. This can result in improved sales and better product visibility.
Exposure to New Audiences
Selling on Walmart allows you to reach certain customer segments that may not be shopping on Amazon. Since Walmart caters to a diverse audience, including those who prioritize low prices and convenient physical store locations, you can tap into a new segment of consumers who may not be browsing other online marketplaces.
Easy Checkout Process
Walmart's easy, streamlined checkout process can greatly benefit customers and businesses. With options like in-store pickup, Walmart Pay, and fast shipping through the Walmart Fulfillment Services (WFS) program, customers can experience a smooth and convenient shopping experience.
According to Accenture, 87% of online shoppers leave their carts if the checkout process is complicated. So, since Walmart has a streamlined checkout process, it can help increase customer satisfaction and lead to repeat business.
Drawbacks of Selling on Walmart
Now that you know the benefits, it's time to familiarize yourself with the ecommerce platform's downsides. Here are some disadvantages of selling at Walmart:
Lower Profit Margin
Although Walmart has lower fees and no additional costs unlike Amazon, you may still experience a lower profit margin overall. This is due to Walmart's focus on offering low prices to their customers, which might require you to decrease your product prices to stay competitive.
Walmart may also unpublish the listings if the sellers don't keep up with the competitive pricing. This can lead to sacrificing profits to stay visible in the Walmart marketplace.
Fewer Shoppers
While Walmart claims that its sellers receive 13 times more monthly visitors than Amazon sellers, it is essential to remember that Amazon still has a more extensive customer base. Despite its growing popularity, Walmart may not provide the same level of sales opportunity that Amazon can offer.
The competition between sellers might be low, but you'll also face fewer potential customers as a Walmart marketplace seller.
Limited Fulfillment Options
Amazon offers the Fulfillment by Amazon (FBA) program, while Walmart offers the Walmart Fulfillment Service. WFS is relatively new, while Amazon FBA was the first to provide this fulfillment service.
While it's good that Walmart is working to develop its fulfillment capabilities, it is not yet as comprehensive as Amazon's FBA program. Walmart has 40 fulfillment centers in the United States, but Amazon has 110.
WFS is accessible only to experienced sellers, compared to Amazon FBA, which welcomes anyone. This means it could be challenging for newbie Walmart sellers as they will be responsible for managing their inventory and shipping to customers.
The Amazon Marketplace
Now that you know the background, benefits, and drawbacks of selling on Walmart, let's explore the Amazon marketplace. Like Walmart, Amazon has many benefits and drawbacks that you should consider before deciding if it is right for your business.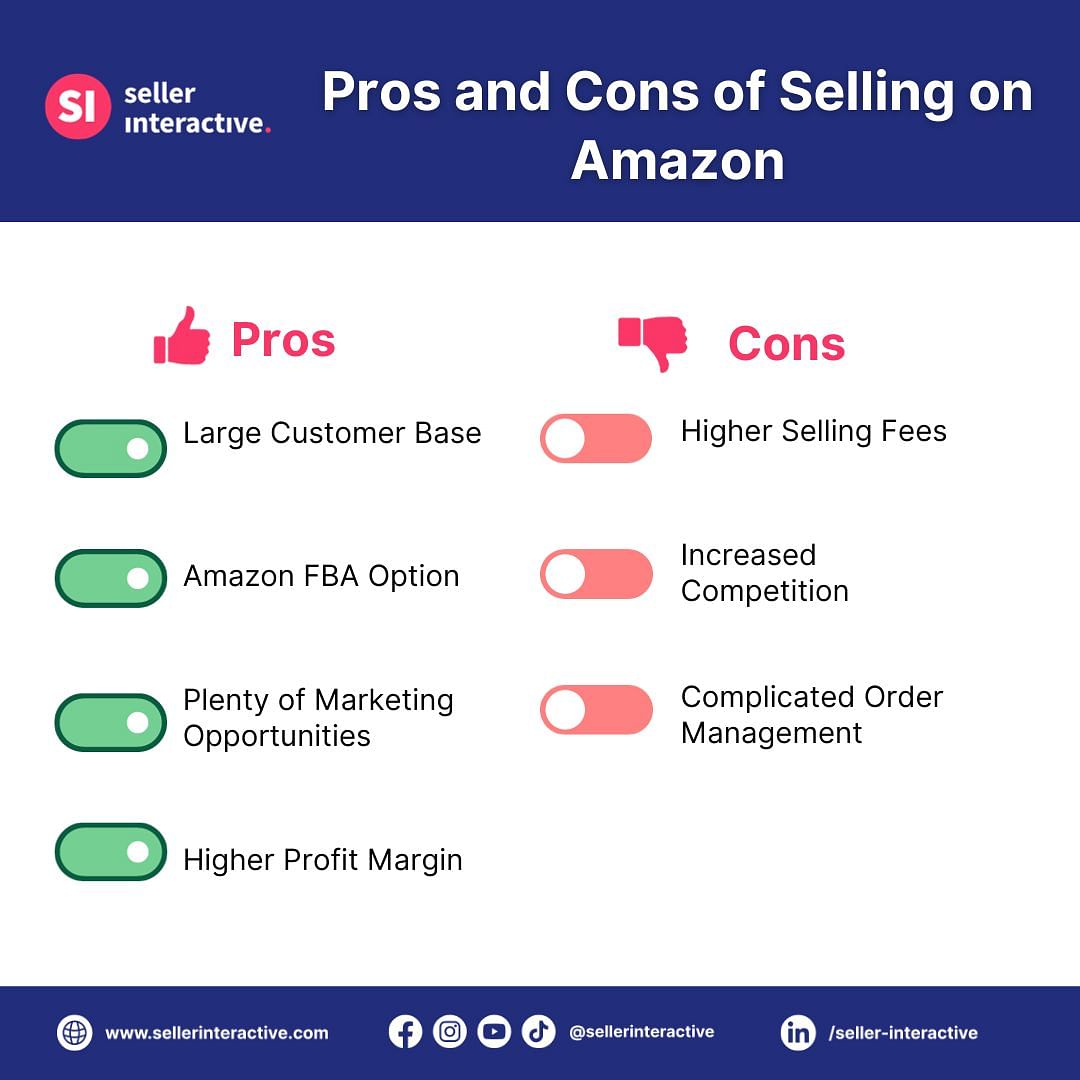 Benefits of Selling on Amazon
With a global customer base exceeding millions, Amazon provides unparalleled access to a vast market. Aside from this advantage, what factors make selling on Amazon worth it? Here are the benefits of selling on the world's largest ecommerce platform.
Large Customer Base
Amazon has a large consumer base, which means that millions of potential shoppers visit the site every day. Amazon has 310 million active users, while Walmart serves 240 million customers.
Amazon FBA Option
Amazon FBA allows sellers to keep their products in Amazon warehouses while Amazon handles the storage, packaging, and delivery. This can save you time and effort, allowing you to concentrate on other aspects of your business. Additionally, FBA products are eligible for Two-Day Prime Free Shipping, which appeals to customers.
Plenty of Marketing Opportunities
Amazon offers various marketing tools and opportunities to help promote your products and grow sales. These marketing tools include Sponsored Products, Amazon Lightning Deals, and other promotions.
These features can:
Increase your product's exposure
Drive traffic to your Amazon store
Improve sales
Higher Profit Margin
Amazon can provide a higher profit margin than platforms like Walmart. But it also depends on the product category and your pricing strategy. Since Amazon caters to over 300 million customers, there's a bigger chance of increasing your sales than using platforms with fewer shoppers.
Drawbacks of Selling on Amazon
Selling on Amazon has its perks, but there are downsides too. Aside from the challenges you'll face selling in a crowded marketplace, here are the drawbacks of selling on Amazon.
Higher Selling Fees
Selling on Amazon comes with its share of costs, and one of the primary drawbacks you may encounter is the higher selling fees. The fees on Amazon can vary depending on your seller account type. Take a look at the table below:
| | |
| --- | --- |
| Selling Plan | Pricing |
| Individual | $0.99/item sold |
| Professional | $39.99/month |
Amazon also charges a referral fee that ranges from 8% to 15%, depending on the product category. Additionally, if you choose to use Amazon FBA, you will be subject to additional fees, such as shipping costs and monthly storage fees. These costs can reduce your profit margin, especially compared to platforms with lower fees, like Walmart.
Increased Competition
The higher number of sellers on Amazon compared to Walmart leads to increased competition on the platform. This means Amazon can be a challenging environment for your business to thrive in.
With millions of sellers and products on the platform, it can be difficult for your products to stand out. As a result, you'll need to invest more resources in advertising campaigns, product optimization, and competitive pricing to gain visibility and sales on Amazon.
On the other hand, Walmart has a more stringent seller approval process, which results in less competition and higher sales potential for approved sellers.
Complicated Order Management
Managing orders on Amazon can be complex, particularly for new sellers. The platform offers various services such as FBA, Seller Fulfilled Prime (SFP), and the regular fulfillment method. Each has its own set of requirements and challenges. This can lead to increased workload while trying to meet strict performance metrics imposed by Amazon.
Tracking inventory across multiple fulfillment methods and keeping your listings up to date can be time-consuming and resource-intensive. In contrast, Walmart has a more streamlined order management process and offers fewer fulfillment options, which simplifies the seller experience.
Factors To Consider When Selling on Walmart vs. Amazon
You now understand the differences, benefits, and drawbacks of selling on Amazon and Walmart. Before you decide which of the two ecommerce platforms you'll use for your selling journey, take a look at these factors you need to consider.
Fees
It's important to understand the fee structure of Walmart and Amazon. Amazon charges more selling fees, but are they value for money? Walmart has no fixed monthly fees but also levies percentage-based referral fees.
Before you determine the most cost-effective option for your business, compare the selling fees, inventory storage, fulfillment costs, and any additional charges for advertising or other services of ecommerce platforms.
Profit Potential
Profitability is an important consideration when selecting an ecommerce platform. While Amazon dominates the market with nearly 40% of ecommerce sales, Walmart is the second most visited online marketplace in the US.
Consider the number of customers you might reach on each platform and the competitiveness of your category with each platform. These two factors will impact your profit margins.
Advertising Options
Advertising can increase the visibility of your products and drive more sales. Amazon and Walmart both provide paid advertising opportunities for sellers. Amazon provides advertising tools, such as Sponsored Products, Sponsored Brands, Sponsored Display, and more.
Walmart marketplace offers a pay-per-click (PPC) advertising platform called Walmart Sponsored Search. They provide three types of advertising: Display Ads, Sponsored Products, and Sponsored Brands. Compare the costs, reach, and effectiveness of the advertising options on each platform to help you decide which is the best fit for you.
Ease of Use
Consider each platform's ease of use and seller support. Walmart has a more selective and rigorous application process than Amazon, which might be a barrier for some sellers.
However, gaining access to Walmart's Seller Center provides various features, including data and analytics for performance monitoring. Amazon's Seller Central has many features and options, which might need a learning curve for beginner sellers.
Evaluate each platform's user interface, available tools, and customer support to see which best suits your business needs and resources.
Start Selling on Walmart With Seller Interactive
You have many options for selling online, but the two giants in the industry are Walmart and Amazon. Amazon has a larger customer base, which makes it a prime choice for reaching a wide audience.
However, Walmart's ecommerce sales have been consistently growing, and its fast growth rate presents an attractive opportunity for sellers seeking to enter a marketplace with less competition.
Need help to get started with selling on Walmart? Seller Interactive can help. We offer comprehensive Walmart account management services to help you establish your presence and access a wider audience.
Book a call with us today, and reach your brand goals!